6 . 04 . 2021
Choosing a Kamado Joe BBQ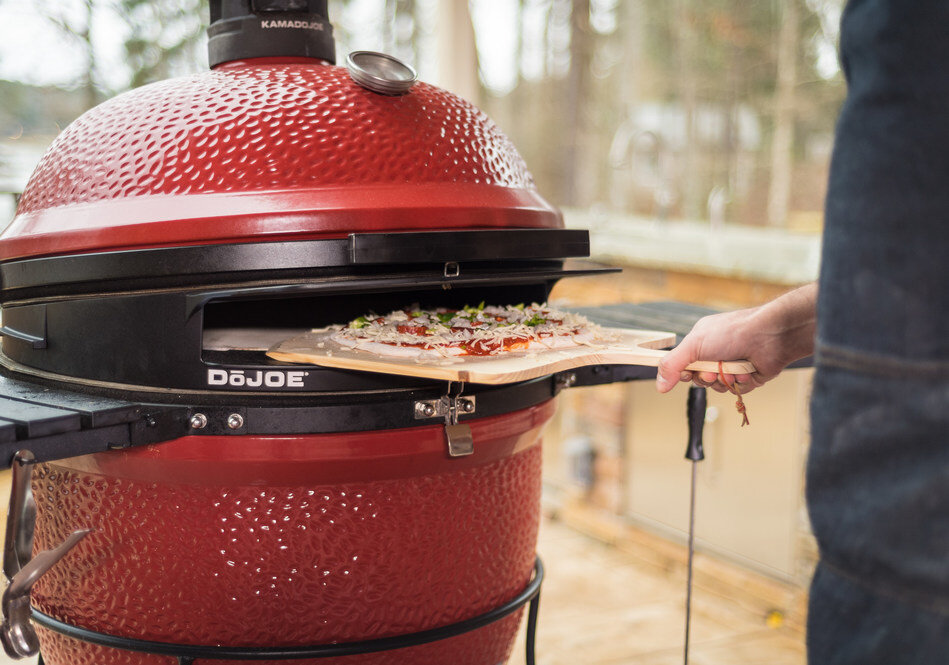 The story behind Kamado Joe BBQs
Each Kamado Joe BBQ has been designed for people that love to cook by people that love to cook. Tired of using charcoal barbecues with poor functionality, the makers of Kamado Joe grills were inspired to design and develop an all-round better barbecue. And, that's exactly what they did. With smarter features and more innovative accessories, Kamado Joe BBQs have been crafted to perform better than your standard garden grill, with the hope of providing a truly exceptional barbecuing experience.
What are the key features of a Kamado Joe Grill?
One of the most eye-catching features of a Kamado Joe Grill is its egg-shaped design. Bright red in colour, the shape of the Kamado Joe BBQ was inspired by an ancient, Asian-style grill, which encourages air to flow through the ceramic body and out the vented dome. With this traditional method of cooking in mind, Kamado Joe were able to modernise the design with innovative functionality.
Aside from their bold exterior design, the technology behind Kamado Joe barbecues is what makes them really stand out against the crowd. Their patented Divide and Conquer Flexible Cooking System revolutionised the barbecue industry. With a multi-level, half rack design, Kamado Joe made it possible to cook different foods in different styles at different temperatures, all at the same time. Gone are the days of batch cooking or overcrowding your barbecue grill, as Kamado Joe's tiered grates effectively double your cooking space.
With a flexible cooking system, heat-resistant shell and precision ventilation dial, outdoor cooking has never been easier than with a Kamado Joe grill.
What can you cook with a Kamado Joe BBQ?
With their innovative half rack design, Kamado Joe grills are more than capable of taking on your classic barbecue items, such as sausages, burgers, chicken wings and corn on the cobs. But, why stop there? At Kamado Joe, they've designed a huge range of additional features, enabling you to take your barbecue to the next level and really cook up a storm.
As one of their most popular accessories, the JoeTisserie transforms the Kamado Joe BBQ into a self-basting rotisserie. With a quiet but powerful motor, the JoeTisserie can spin up to 50 pounds of chicken or prime rib, turning your Kamado Joe grill into a must-have cooking appliance.
But that's not all. Having quickly positioned themselves as one of the most versatile barbecue brands on the market, Kamado Joe set about creating the DoJoe. Ideal for both beginners and expert chefs alike, the DoJoe effectively transforms your Kamado Joe grill into a state-of-the-art pizza oven. With a high-quality ceramic pizza stone, the DoJoe provides the ultimate pizza cooking experience.
While your Kamado Joe Grill will have traditional stainless-steel grates included, Kamado Joe also supply a wide range of interchangeable cooking surfaces. With cast iron griddles, laser-cut stainless-steel surfaces and soapstone slabs, you can tailor your Kamado Joe BBQ around your cooking needs.
From fish and vegetables to ribs and rotisserie, the real question should be what can't you cook with a Kamado Joe BBQ?
What size Kamado Joe Grill should you get?
At Kamado Joe, they have an expertly crafted BBQ for every size family and occasion. This means, whichever size barbecue you choose, you'll receive the same industry leading functions and features.
For parties and events
If you need a barbecue to live up to the needs of your large summer parties, you'll want to take a look at the Big Joe and Big Joe III. Ideal for hosting events, both of these Kamado Joe BBQs are able to accommodate up to three full racks of ribs. Their exclusive 3-tier, half rack cooking system means you can double your cooking space, efficiently meeting the needs of all of your hungry guests.
Discover the Big Joe and Big Joe III, ready for your next Summer get together.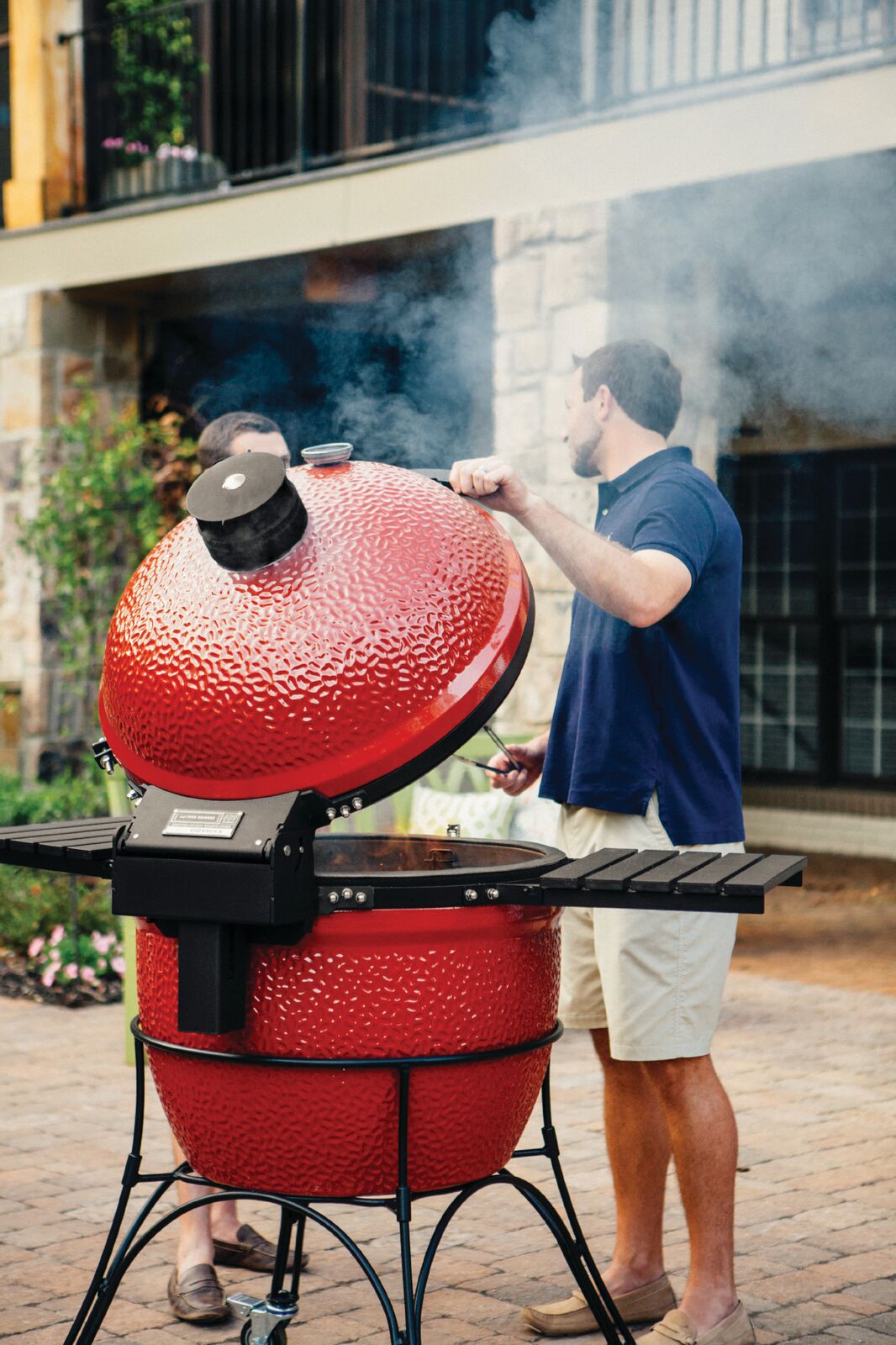 For friends and family
With small groups of friends and family in mind, Kamado Joe have produced a range of innovative charcoal barbecues, with the Classic, Classic II and Classic III to choose from. With the original Classic setting a new high standard of craftsmanship in the barbecue industry, the newer models continue to go above and beyond by featuring the very latest innovations. The first of its kind, the Classic III includes the patented SloRoller Smoke Chamber, turning the Kamado Joe BBQ into an optimal garden smoker.
Find out more about the Classic range of Kamado Joe BBQs.
For couples
Perfect for couples and small families, the Joe Jr barbecue has a 34cm diameter cooking surface, which is enough room to roast a full chicken with vegetables on the side. So, if you're looking to cook up a few burgers and sausages for two, you'll have more than enough space with the compact Joe Jr. Thanks to its small size, the Joe Jr is also incredibly lightweight at just 31 kg, making it ideal for packaging up and taking on a picnic or a weekend away with your partner.
Take a closer look at the Joe Jr here.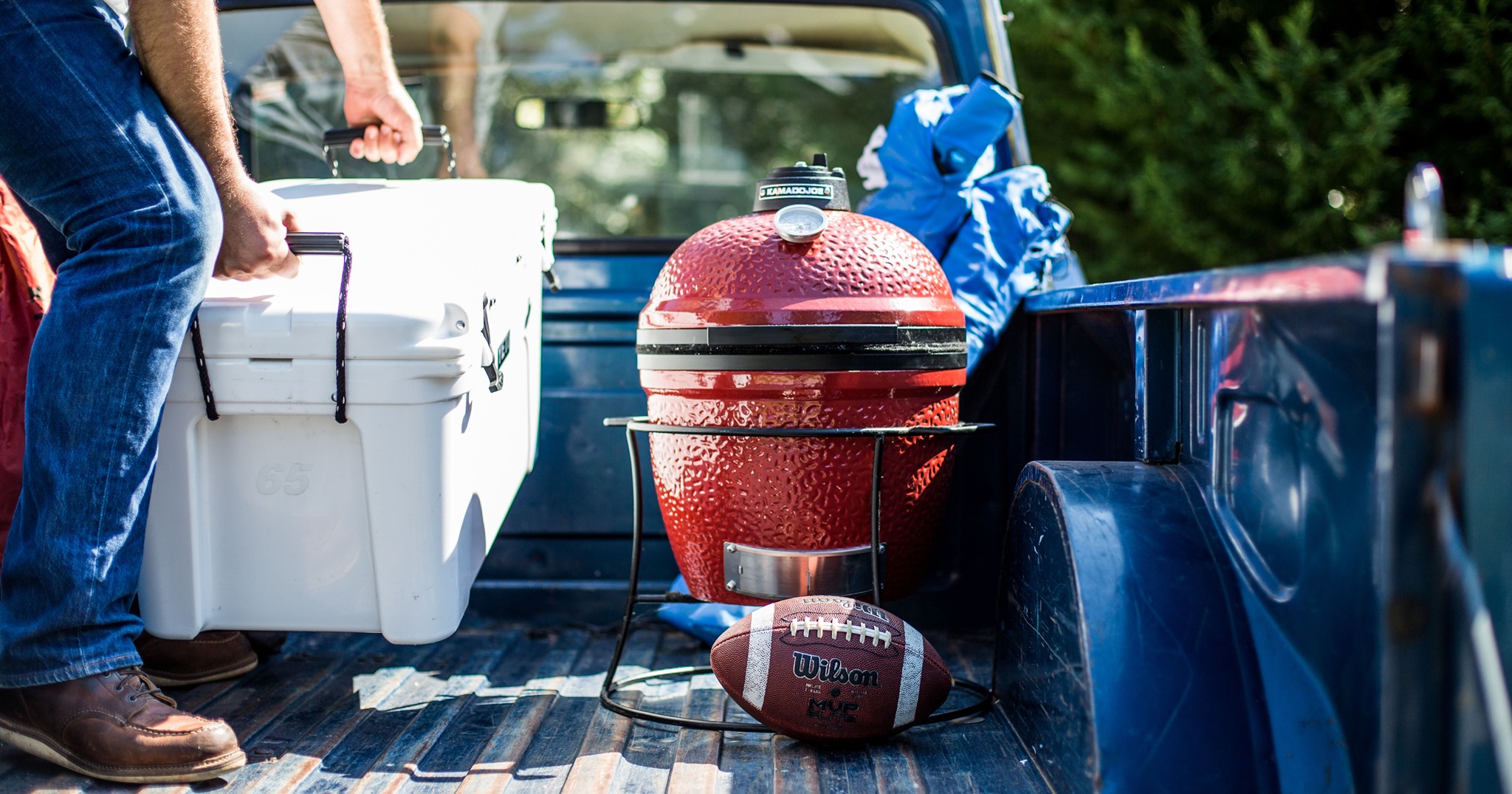 Where to buy a Kamado Joe Grill
If you want to find where to buy a Kamado Joe grill in the UK, visit TopBBQ. With more than 20 years of experience in the barbecue industry, we can help you choose which Kamado Joe BBQ is right for you, as well as provide expert advice and information on the available accessories and features.
At TopBBQ, we also stock a range of Kamado Joe bundles, providing you with everything you need to get your Kamado Joe grill fired up. Our Classic III Pro Joe Bundle includes charcoal, firelighters, matches, cooking grates, a barbecue cover and a state-of-the-art JoeTisserie. To find out more about our unrivalled offering of Kamado Joe products, get in touch with TopBBQ.